Mounting A Television Above Your Flare Fireplace
---
The Flare Fireplace directs the heat from the fireplace into the chase to be released from top vent opening. This d allows for a relatively low temperature on the external wall above the fireplace. Follow the chart below for suggested installation of a television above the fireplace.
   • Please note that electric wiring used for the television must be insulated when installed below noncombustible
line.
• It is critical that wiring insulation does not obstruct the hot air flow from the top of the chase to
be released back to the room.
• Follow the chart below for clearance and sizing.
• It is recommended to double wall the area behind the TV to allow cables and other related material to be
installed with less concern of blocking hot air flow. Use non-combustible material for double wall.
• All wires MUST be secured and anchored to the frame to prevent any possibility of wires dropping on top of
the Fireplace.
• TV can be recessed when installed above the Fireplace or protected by a mantel.
• Wires should be inserted into the recess from the top or sides (In order to avoid proximity to the fireplace
vent).
L- TYPE & FLAT INSTALL:
  PLANNING FOR A RECESS:
When planning a TV recess, clearance to the vent in the chase is critical and needs to be a minimum of 1" to the noncombustible recessed wall. This is to prevent heat from radiating from the vent to the recessed wall and being
transferred to the TV. Due to the central location and diameter of the vent (8 inches), one of the following solutions may be necessary to maintain the clearance requirement:
   1. Install the fireplace with a recess up to 4" inches at the top of the glass, which will bring the front wall out
and allow for space to recess also the TV. See an example of this on the previous page.
   2. Install two 45 elbows directly above the fireplace followed by a minimum 4 ft vertical vent rise. The two small
elbows will move the vertical section back 5 5/8". Note that the 1-inch clearance from the vent applies also to
the back non-combustible wall.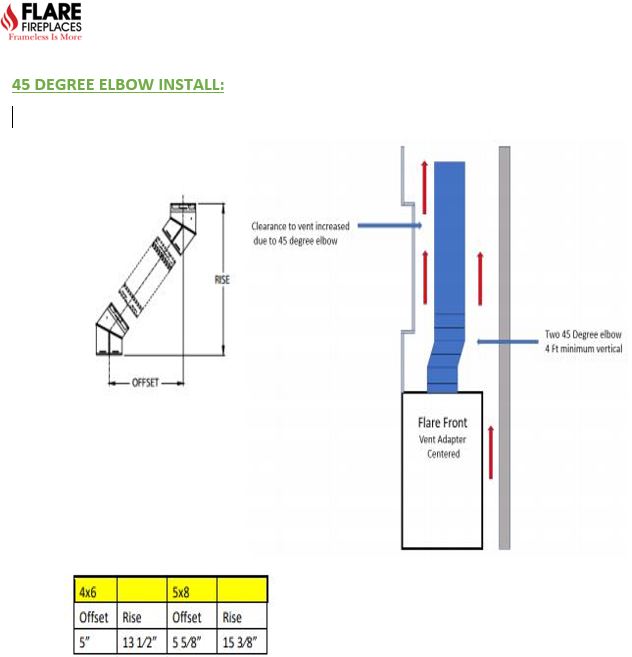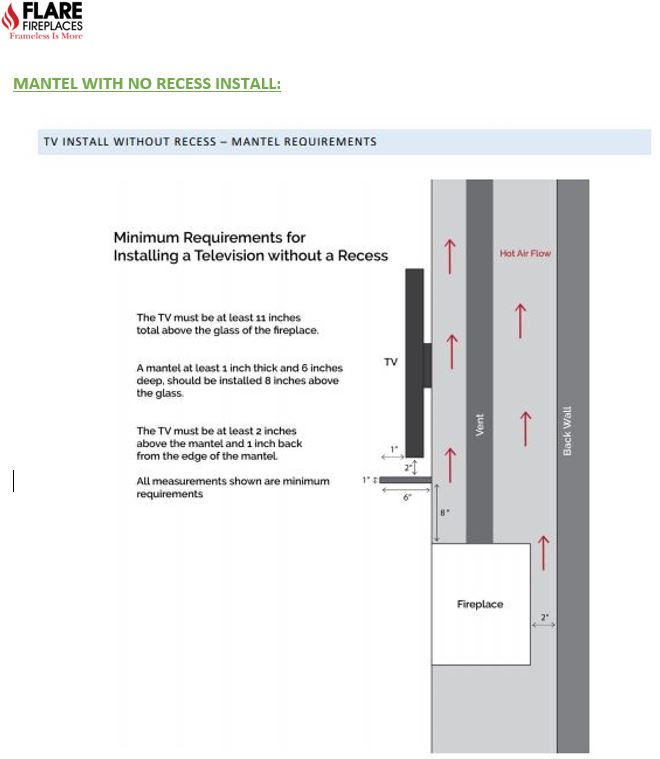 *Please note that most television manufactures and manuals will instruct the owner not to install television above or near a fireplace. Mounting a television above the fireplace is based on the owner's decision and responsibility.*