Flare
Front

– Modern Frameless Fireplace
Flare
Front

Modern Fireplace Is Available In

7

Different Sizes
3

Different

Glass Heights
The contemporary gas fireplace has been reinvented with a frameless design & sharp minimalist look that allows the surrounding finishing material to come directly to the glass. This creates an opening that gives the appearance of fire hanging beautifully in your wall.
Flare's most popular design, the Flare Front Modern Fireplace, is a gorgeous linear gas fireplace designed with 7 different lengths to fit projects of all sizes. With 3 different glass heights & countless optional features you can get your custom fireplace off the shelf without the long wait times.
With Flare Fireplace's cool wall technology, you can also hang your television as close as 12" above the glass opening. This technology is achieved without the need to power vent, cutting down on overall cost and saving on installation time.
Flare's unique Media options can sit directly on the flames and give you the ability to turn the inside of your fireplace into any landscape you can imagine. Choose between log sets, fire glass, white pebbles, black stones, or our new high definition drift wood. Check our new Media Scenes page to get inspiration for your own Flare Fireplace.
All Flare Fireplaces come standard with an Invisible Mesh safety screen, but can be upgraded to include our Double Glass feature for the same protection and a much clearer view to your Flare's flame.
Click the link provided to read more about our amazing features and what makes a Flare Fireplaces the best gas fireplace available for any project.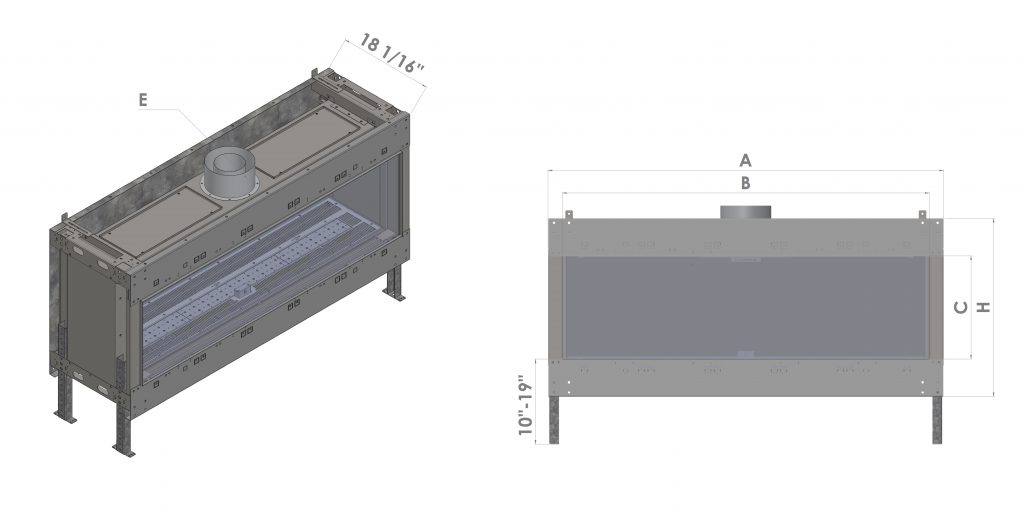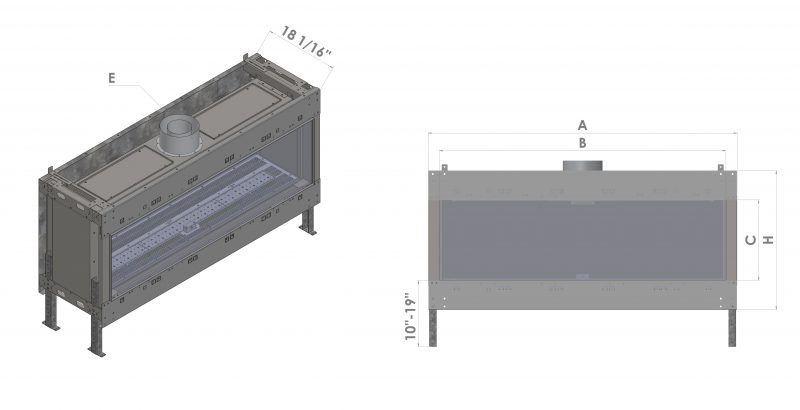 Model name reflects approximate fireplace size (A)

Model-H means high glass, 24″ (C)
All units are certified and

approved by CSA

to be installed in North America,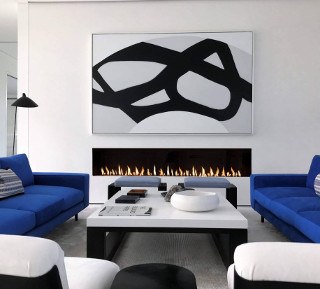 The linear gas fireplace is designed to appear longer over the wall projecting rectangular opening. The term "linear fireplace" is used because it can be because such rectangular fireplaces can be specified by linear foot. For example, Flare 3ft, Flare 4ft or Flare 8ft.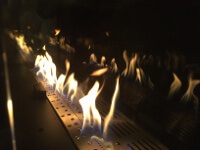 3D Stainless Steel Burner
Unlike a traditional pipe burner, Flare's 3D stainless steel burners create a deeper, taller flame that extends closer to the sides of the fireplace, allowing for a more dynamic, natural look.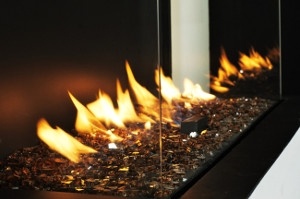 Corner Fireplace
Left Corner (LC), Right Corner (RC) and Double Corner (DC) designs feature slim contemporary fireplace design with glass to glass connection.
Remote Control
Every Flare includes a stylish, slim remote with flame height adjustment, temperature control, timer and sleep mode.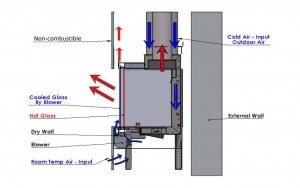 Double Glass
The optional double glass replaces the standard, metal mesh safety screen with a seamless pane of glass cooled by hidden fans.
Multicolor LED Lighting
The optional multicolor RGB LED kit lights up your firebox with any color your can think of. Set the tone with the included remote control.
Handheld Application
Used in conjunction with the remote or wall switch, the myfire© app allows users to control multiple fireplaces at the house or business with an Apple or Android device.
Power Vent
The optional Power Vent (PV) gives you greater creative flexibility by increasing your vent routing options. This system eliminates the need for a vertical vent run directly out of the firebox and allows for vent runs far longer than with natural venting.
Summer Kit
The optional Summer Kit (SK) is a fan system that extracts hot air from the chase and directs it outside rather than allowing it to circulate through the room. This enables your fireplace to operate without a significance increase in room temperature, so you get the beauty of natural flames without the heat.
Battery Backup & Electronic Ignition
Heat your home or commercial facility without electricity. Every Flare is designed to operate during a power outage using battery backup ignition.
Power Supply
Optional 120V power adapter for daily use.
Flare Fireplaces –
Request

A Quote