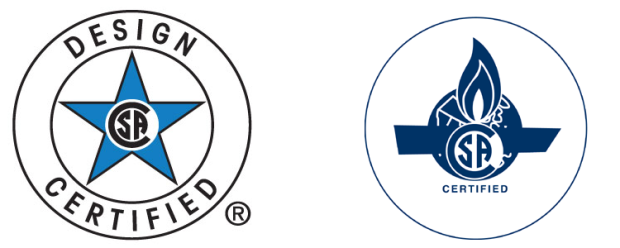 Flare Fireplaces subjects every unit to rigorous tests to verify it is free from any defects before it leaves our warehouse.
Our factory is supervised by CSA and subject to the highest operating standards.
Flare Fireplaces Warranty Information
1 year Limited Warranty on the gas valve, remote, pilot burner assembly, electric components and fan motors and interior decorative media.
5 Year Limited Warranty for ceramic glass (thermal breakage only).
10-year Limited warranty on the firebox and burners
The Flare Firesplaces warranty shall be effective only if the original purchaser of the fireplace appliance registers the unit within thirty days of the date of purchase.
Minor warping of certain components or discoloration is normal and is not considered a defect that is covered under this warranty. Major disruption and buckling of parts can be caused by over-firing of your fireplace. Over-firing above the rated value specified in the manual is contrary to the manufacturer's instructions and may void this warranty.
All installations must be performed by a qualified technician in accordance with applicable local and national requirements.
Installations must be done in accordance with the installation manual. The Limited Warranty applies only if the product is installed in the United States or Canada and only if installed, operated and maintained in accordance with the attached product manual.
Warranty coverage begins on the date of original purchase.
It is the responsibility of the installer to ensure the appliance is firing per the rating plate.
Any part that is found in our judgment to be defective shall be repaired, replaced or refunded at Flare Fireplaces' option.
This warranty only covers appliances that are purchased through a Flare Fireplaces authorized dealer or distributor.
The warranty is only valid while the appliance remains at the site of original installation.
Contact your dealer for warranty service. If the dealer is unable to provide necessary parts, contact the nearest Flare Fireplaces authorized dealer or supplier.
This Warranty Is Void If
An unauthorized media type is used in the firebox.
The appliance has been over-fired or operated in atmospheres contaminated by chlorine, fluorine or other damaging chemicals. Over-firing can be identified by, but not limited to, warped plates or pipes, rust colored iron or bubbling, cracking and discoloration of steel or enamel finishes.
The appliance is subjected to prolonged periods of moisture or condensation.
There is any damage to the appliance or other components due to water or weather damage which is the result of, but not limited to, improper chimney or venting installation.
Holes have been drilled into the fireplace for any reason.
Exclusions
This warranty does not apply to any component that shows evidence of misuse, abuse, improper installation, accident or lack of maintenance.
Flare Fireplaces is not responsible for televisions, mantles, surrounds or finishing material around the fireplace.
Flare Fireplaces may at its discretion discharge all obligations by refunding the wholesale price of the defective part.
The Limited Warranty covers only parts and labor as provided above. Flare Fireplaces will not be responsible for materials, components or construction, which are not manufactured or supplied by Flare Fireplaces or for the labor necessary to install, repair or remove such materials,components or construction.
Product Registration
Help Us and Register Your Product
CSA Certification
US and Canadian Certification
Support
Contact The Support Team
Support Information
Flare Fireplace Support