What truly makes a fireplace a modern fireplace?
The list below  presents some of the important features, when bundled together, assure the final result is truly modern.
Read more about the most important features in the stylish contemporary fireplace design contributing to the stunning effect we like to see.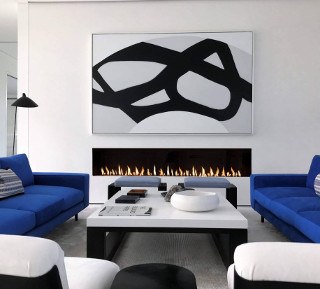 The linear gas fireplace is designed to appear longer over the wall, projecting a rectangular opening. The term "linear" is used because it can be specified by linear foot. For example, Flare 3ft, Flare 4ft or Flare 8ft.
Used along side the Flare remote or wall switch, the Myfire© App makes it possible for users to control multiple fireplaces in the house or business with an Apple or Android device. Taking advantage of the colorful retina display & intuitive interface.
Perfect for areas with warmer climate, the optional Summer Kit (SK) extracts heat from the chase, directing it outside rather than into your home.  The inline system of fans allows the fireplace to operate without a significant increase in room temperature, and operating the kit is as simple as starting your fireplace.
Modern homes can be hard to control. As technology advances, the number of  network controlled devices seems to increase. The Flare line of modern linear fireplaces presents a way to connect your fireplace to your Smart Home, making it a part of your existing automation system, and not just relying on a dedicated remote.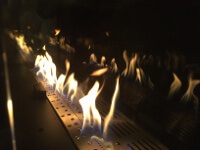 Longer, 3D stainless steel, burners (V.S a pipe burner) with deeper taller flame that extend closer to the sides of the fireplace.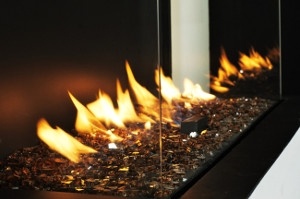 Corner Fireplace
Our Corner and Double Corner frameless fireplace is highlighted with a beautiful glass to glass connection. Giving the seamless appearance we've come to expect from Flare's modern design.
Multi Color LED Lighting Option 
Our optional multi colored interior RGB LED lighting system allows for the perfect view of the flame across a bed of crushed glass, or any of our fantastic media options. How To Video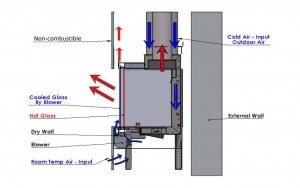 Our cooled Double Glass system will provide all the safety you need by creating a barrier between your hands, and the heat from inside your Flare.
Power Supply
Optional 110V power adapter for day to day use.
Battery Backup & Electronic Ignition
Heats without power. Designed to operate during a power outage using battery backup. Fuel  saving electronic ignition with battery back-up.