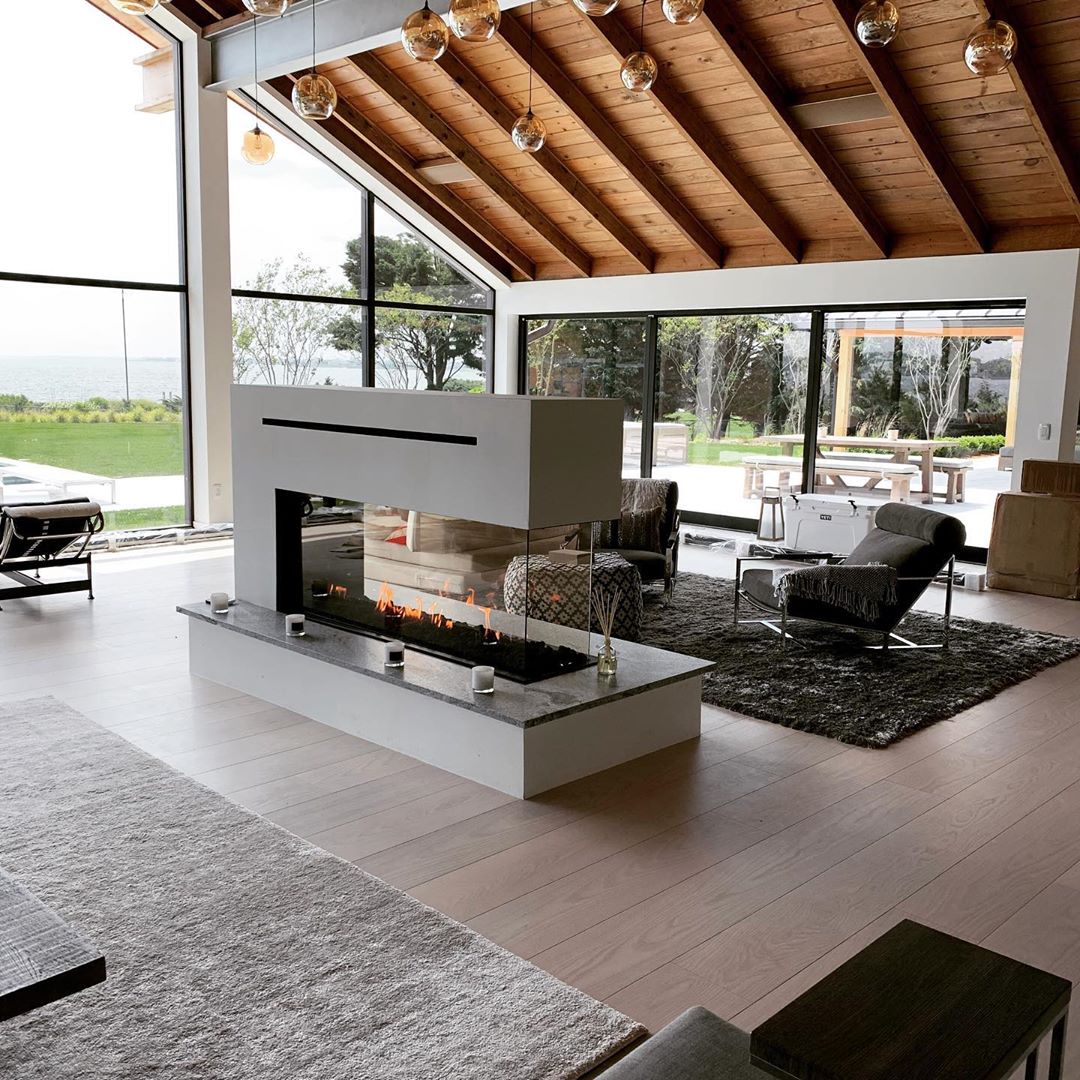 You're building a new home? Amazing! So much detail goes into a project like this. From lighting, flooring, hardware, finish outs and so much more. With all of that on your plate, the selections to be made, vendors to coordinate and tasks to manage while racing the clock, we thought it would be best to share some of our tips and tricks to make the walk through for you Flare Fireplace as simple as humanly possible.
First things first. Where do you want this fireplace to go? Flare fireplaces are linear gas fireplaces. Because we don't require the use of heavy brick and mortar to create a cavity for the fire to occur in, they remain relatively light comparatively. Great for placement on any story of your home, in a renovated high-rise penthouse or even in a basement if needed! With our adjustable telescoping legs, you can also choose where you want to see your fire floating in the wall between 10 and 19 inches off the floor. Have 12 FT ceilings? Looking for a window between rooms and want it higher? You can absolutely have a platform constructed to raise your firebox even higher. You are only limited by your creativity.
Read More.
You have two options when it comes to framing for your fireplace. Consult our Architectural and Framing Guide to determine if you are more inclined to use wood studs or metal studs. Want to take the guess work out of establishing what size cavity you need? Visit the Download Center of any of our product pages, or click here, and you will see Architectural and Framing guides for all of our units. No matter the width of your firebox or glass height you choose, each of these guides show you the 3 measurements you minimally need to adhere to for a safe and ready cavity!
Flare Fireplaces direct vent flue system is the key to such high steady state efficiencies. With the use of 1 Co-Axial pipe either a 4″ x 6″ OD or 5″ x 8″ OD , you have tons of flexible and available chimney paths to consider without ever having to implement a Power Vent. Check our Installation Manual for the applicable vent runs allowed based on the size of the unit you are using. If you need any help navigating our vent charts, contact a dealer local to you or our in-house live support team!
Flare Fireplaces operate using a committed 110V power source with recommended 15 amps dedicated. Be sure to plan for this for your firebox. If you are utilizing a Double Glass Safety Barrier, the control board for it will also have an optional port to run RGB-LEDs for easy access to power. If you have a safety screen unit which can be supported by battery backup, you will want to account for an additional 110V power source for additional accessories as needed. Implementing a Summer Kit or Power Vent?  These accessories will call for a power source at their install location as well.
To compensate for the heat output of these units and utilize the Cool Touch Wall Technology we will also incorporate Heat Releases to open the finishing material and allow that heated air back into the space. As versatile and customizable as Flare Fireplaces are, they are also incredibly powerful modern gas appliances. With high efficiencies and high BTU productions, they work incredibly well in conjunction with your existing HVAC system to warm your home and give you a phenomenal view to fire. You can get additional information about sizing requirements from the installation manual and ideas on how to implement them in our Air Intake and Heat Release article here.
As we approach the finish of our planning and preparation make sure to consider a final few things. Where would you like to run and place your gas connection? What is the smartest way to access those components for annual servicing? Where can a manual shut off be placed in the event of an emergency? Flare does not require an access panel, but we do highly recommend the incorporation of a discrete panel as often as possible. You will notice our fireplaces are remarkably reliable, but like all appliances they do need additional attention and care to ensure they are running at their highest level.
FLARE FIREPLACE | 2019
1406 Capital Ave. Suite 104 Plano, TX. 75074