Flare
Passage

 – Modern Frameless Fireplace
Flare Passage
See Through

Or Front Fireplace –

Vertical

Fireplace
The contemporary gas fireplace has been reinvented with a frameless design & sharp minimalist look that allows the surrounding finishing material to come directly to the glass. This creates an opening that gives the appearance of fire hanging beautifully in your wall.
Flare's most popular design, Now as a vertical new look.
The Passage Fireplace can be ordered as a Standard See Through Fireplace – Flare-ST-30-EH or with a solid back for a front facing presentation, vertical window and a fireplace.
All Flare Fireplaces come standard with an Invisible Mesh safety screen, but can be upgraded to include our Double Glass feature for the same protection and a much clearer view to your Flare's flame.
Click the link provided to read more about our amazing features and what makes a Flare Fireplaces the best gas fireplace available for any project.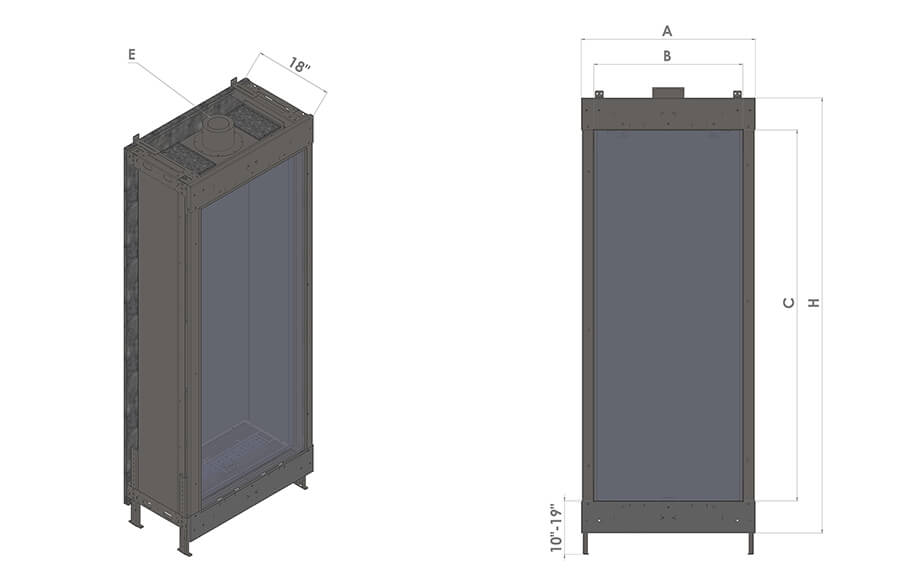 Model name reflects approximate fireplace size (A)
All units are certified and

approved by CSA

to be installed in North America,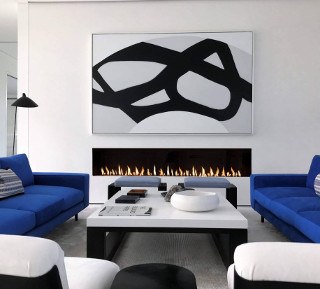 The linear gas fireplace is designed to apper longer over the wall projecting rectangular opening. The name "linear fireplace," is used for the fireplace, because it can be specified by linear foot. For example, Flare 3ft, Flare 4ft or Flare 8ft. When specifying and referring to a linear fireplace, it mostly refers to a rectangular shaped fireplace.
Used in conjunction with the Flare remote or wall switch, the Myfire© app makes it possible for users to control multiple fireplaces at the house or business with a hand-held Apple or Android device with colorful, intuitive graphics.
The optional Summer Kit (SK) extracts heat from the chase, directing it outside rather than into your home.  The inline system of fans allows the fireplace to operate without a significant increase in room temperature and operating the kit is as simple as starting your fireplace.
Modern homes are hard to control. As technology advances, the number of controlled devices increases. The Flare linear modern fireplace presents a way to connect the system to a home automation process in order to control it as part of the house, and not only with a dedicated remote.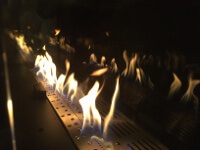 Longer, 3D stainless steel, burners (V.S a pipe burner) with deeper taller flame that extends closer to the sides of the fireplace.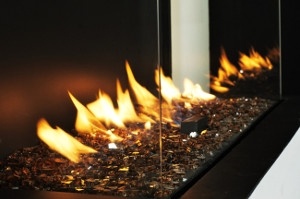 Corner Fireplace
Corner and Double Corner frameless slim contemporary fireplace design with glass to glass connection.
Remote Control
Eight button stylish remote with timer, sleep mode, flame height adjustment, programming and temperature control.
Multi Color LED Lighting Option 
Optional multi color interior RGB LED lighting.Allows perfect flames view across a bed of crushed glass, illuminated by LED under lighting.
Power Supply
Optional 110V power adapter for day to day use.
Optional Transition Trim
Optional slim metal transition trim to all better connection and cover between the finishing material and the fireplace
Battery Backup & Electronic Ignition
Heats without power. Designed to operate during a power outage using battery backup. Fuel  saving electronic ignition with battery back-up.
Flare Fireplaces – 
Request 

A Quote