Celsius to Fahrenheit On
Flare

Remote
---
Changing Celsius to Fahrenheit, & vice versa, on the Flare 8-Button remote can be done by pressing the ON and Counter down button. Because Flare also serves the Canadian Market it is important to offer both units seamlessly. For a clear outline of the process see the image below.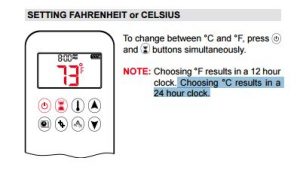 For more information on the Flare 8 button remote, please view the remote manual below:
For a quick video on the remote operation use:
Click here

to view a video on Symax 4 remote control
The change in the setting may happen during an attempt to start the fireplace by pressing both buttons.