The linear Fireplace side clearance (no glass side) is the same as the back of the fireplace:
1" to Non-Combustible.
2" to Combustible. Combustible cannot be exposed behind/side of the Fireplace.
If installed in an existing corner, two option to plan and install:
Option 1
Cover existing corners, walls and wood studs or any other combustible metrical with Non-Combustible (Cement board or Type X fire rated, ~ 1/2 " thick or).
Install fireplace 2" from the Non-Combustible back.
in case of a side wall next to the front glass, install Fireplace 4″ from the side.
Back: fireplace is 2" from back Non-Combustible & 2.5" from the covered Combustible existing material.
Side: Fireplace is 4″ from Non-Combustible and the fireplace glass is 7″ from the side wall. See chart below. Red line showing reflective heat from the glass.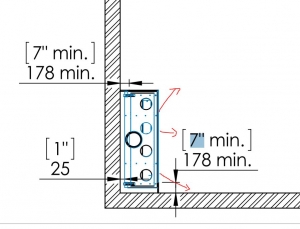 Best option for corner unit that are installed in an existing homes and a chase is built around it.
Option 2
Construct the walls and studs on the back and side of the fireplace from Non-Combustible material. Metal studs and cement board.
Clearance of 1" from Metal studs and Non-Combustible material.
Any Combustible is covered with Non-Combustible and is 2" away.
In case of a side wall, keep fireplace 4″ from the side wall.
See chart below: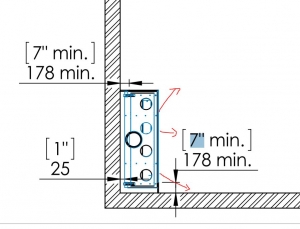 Any stud above the unit must be metal in both options above.
Please see below for more related information from the framing guide